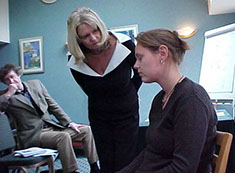 Her Diploma course in Advanced Hypnotherapy started life as a corporate training course in 1990, primarily designed to increase productivity. She also became interested in the therapeutic and medical applications of hypnosis and has refined and developed her own techniques in order to train potential hypnotherapists in the skill of age regression.
Continually researching, developing and refining her techniques, Valerie has spent many years lecturing and teaching workshops in the USA, Europe and Asia, establishing a research institute on the paradise island of Langkawi in Malaysia and gaining international recognition.
"Working on Langkawi, a magical island in Malaysia, where I wrote my first book in 1993, was an important period of development for my technique. When you work with such a small community, in such an intimate place the challenges are immense. What you do simply has to work, and work well, or your credibility suffers and everyone soon knows and you would no longer have a practice! In this way it was an important test centre, and the lessons I learned are important foundations of my constantly evolving hypnotherapy courses."
Valerie Austin
Valerie has specialized in her advanced techniques for increasing individual and group productivity, stress control, and teaching efficient psychological systems and strategies to help keep the highly-trained business mind free of obstacles that can lead to poor performance, ill health and even breakdowns.
Valerie has continued to develop and refine her Advanced Hypnotherapy Master Diploma Course and regularly appears as a VIP guest speaker at selected conferences and workshops, as well as continuing research into the treatment of addictions and alcoholism in association with various medical bodies.
"Hypnosis is the only therapy that allows you to get into the mind 'filing system' and bring forward critical information that creates the quick and efficient changes. No other therapy can do this in such a short time and with such a high success rate. With my techniques the obstacles in the mind can be eliminated and the client can lead a normal life. Radical life enhancements are also possible with relative ease, as the speed reading and stress management parts of my technique illustrate. But what is so important is that my techniques can be trained. I know if the hypnotherapist I have trained follows my techniques to the letter as they too can have an extraordinary success rate."